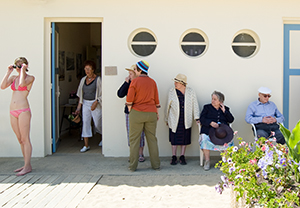 Interview by Didi Gilson for the Street and Repeat group on Flickr. May 2016
G'day all. I've been asked to conduct an interview with Chris Moxey for your reading pleasure. I suppose it's likely because we two have been online friends for over a decade now, and unlike many net contacts, we've also had some enjoyable real-time experiences together when I was fortunate to travel to London twice in the past few years. She was my affable recreation director and knowledgeable mass transportation officer!
We attended exhibitions and venues, trawled through bookstores and even explored (with cameras in hand, naturally) seaside piers and promenades on the coast. She is a generous and interesting woman who it has been my pleasure to meet and get to know, so I hope that this conversation affords you similar pleasure. My multiple questions are in bold type, to which Chris Moxey (Moxette on flickr, but simply Mox to her friends), replies in the stanzas that follow.
Mox, please describe your background; your growing up and schooling as well as jobs and family. Do you recall first noticing a camera (or photographs) and your impetus to why you began your own journey in photography?
I born in Brighton on the Sussex coast, as was my Dad. My Mum was an Eastender. She died when I was ten. She missed London very much but I'm the opposite as I miss living near the sea and I'm planning my repatriation in a couple of years!
I don't remember any particular photographic influences back then. Though my father took some great photos during the war I didn't see them until later. I don't remember taking any photos myself until I was an adult and even then I think it was the magic of the printing process and watching that image appear on the paper that got me hooked, rather than the taking of the pictures. I applied to study graphic repro at London College of Printing, where photography was part of the course along with screen-printing, layout, plate-making etc - we had to originate our own artwork to make negs/plates from. I'd often wished I could draw, and I wasn't very good at it, so I guess photography was a way of visualising my world. I don't know quite why but when the course ended photography kind of fell by the wayside for a while.
I worked in bookselling for quite a few years then later studied Electronic Engineering. I ended up at the BBC for a long time where I taught myself to write html and worked (or perhaps, wormed:) my way into the Digital Media department, eventually becoming an assistant producer on the BBC Health website. Ten years ago, I took voluntary redundancy and that's when I really got into photography again. The redundancy money allowed me to do my counselling training - but I also had a lot of spare time on my hands so I started taking photos, locally at first, but began to find this limiting as I'd keep bumping into the same people, who were also beginning to get wise to me and my camera. At that time I was less into being spotted!
It was around then that I discovered the Flickr community where there were lots of great photographers, in particular Steve Harrison, who was posting all these wonderful photos he took in the 70s and 80s. Steve passed away a few years ago but I'd recommend checking out his brilliant book, A Kind of Dignity (self-published via Blurb). It was also around that time I discovered the work of David Solomons and Paul Russell - and also Tony Marciante, who grew up in New York, taking some great black-and-white photos there in the 1970s. We got to meet Tony and his wife when we were passing through Sonoma one year. And then of course I've been lucky to meet yourself and Susan Catherine (Weber)! So I've had a good experience of photography as a way of meeting people.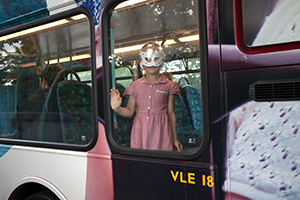 What has changed in your own photography since those earlier days and why?
Well, I'd say that initially there were more elderly folk in my pictures. I could be hard on myself and say they were easier to photograph in my early attempts to go incognito - and to a degree of course they were - but mostly it's that I'm drawn to faces and expressions and there's no doubt that elderly people have their life experiences written on their faces. They have all this knowledge and experience yet it's so easy for them to fall under the radar, rather than have this experience acknowledged.
These days I tend to go into central London, where there are lots of people of all ages; it's rare to see the same person twice, although it does happen. And I've got to the stage where I actually like being seen, though it's an occasional treat as people are all so tied up in their own worlds.
While you have a strong candid/street aesthetic, there are obviously other areas of photography you often pursue. Could you describe your interests in (specific) architecture, as well as how and where that element of your oeuvre takes you?
Yes, I do have other interests though street photography will always be my first love. I'm a fan of topographic photography - created, or 'man-altered' landscapes - and I particularly like the work of Henry Wessel - and Wim Wenders too, though I'm not sure if he falls quite into that category. I enjoy the American landscape very much. I like that there's so much space and I like its infinite variety, and how you can drive for miles and miles. It's very different to the UK where you don't have to drive that far until you reach the sea. Of course, that has its advantages too! Also, following through on my interest in architecture, I started to take photos of houses and bungalows. There are two distinct things going on here... there are the quirky oddball houses, often of no particular architectural merit to anyone other than myself - but with which I've become besotted! And there's the more serious area of recording C20th architect-designed houses: researching the architects, dates, history etc. Both types are in abundance at the English seaside. And sometimes the edges get blurred!
I explore both of these themes in the USA as well as the UK but of course they look very different.
The architecture, as I've said, falls into two categories but what's sparked the more serious interest in houses is that I'm working with some guys on a database of C20th architect-designed houses in the UK, which hopefully will be a resource, not only for enthusiasts like myself - but for students of architecture, and researchers too. Sadly, some get demolished - and even listing isn't a guarantee that they won't - so it's good to have a record. At present, there are no images in the database; the photographs are my own record.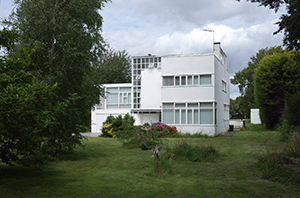 I also love walking and with a friend have spent the last couple of years walking both sides of the Thames estuary from London down to Shoeburyness on the north side and the Isle of Grain on the south - and the Capital Ring (not quite finished!). On my own I've done several walks along the West Sussex coast. Along the way I take photographs of what I see. I really enjoy walking with a friend or my partner but being alone is good too. It's my thinking time. Again, these photos are a record, rather than a creative endeavor but occasionally I hit lucky.
When you make plans to go out with camera in hand (or take a trip with that also in mind), do you just go with where the split-second decision of a moment takes you, or do you have specific goals (series, projects or books) in mind when you make your photos? How much is serendipity and how much is a pre-conceived notion of what you are looking for?
It varies considerably really, though with the street photography it's pretty straightforward; I go to the West End of London and I know what I'll be looking for. It's an ongoing theme but not one that I see as a project. Trips elsewhere can be planned or spontaneous; when planned I'll do research before I go, but even when I'm going somewhere out of necessity rather than for pleasure, I'll endeavour to check out any potential photo-opportunities before I go. When I get enough images that I like I'll probably make more books. I don't think of it in terms of viewers, though of course it's nice to have some. I just enjoy making collections of things. And I enjoy collecting things too!
Is 'the book' found after-the-fact, in the edit and is the book, or exhibition seen as a sort of culmination for you, or a gathering + opening up for viewers? How do you approach the editing process?
Whether I'm editing for my website, for an exhibition or for a potential book the process is always the same. I order 6" x 4" prints of everything, via a cheap printing lab such as Jessops - and then I just lay them all out on the floor and play with them for hours until things begin to make some sense. It can be hard and sometimes you have to kill your babies but I really enjoy the editing process. I also think I'm a bit of a frustrated curator. I love using the gallery facility on Flickr to make collections of images from my favourite photographers.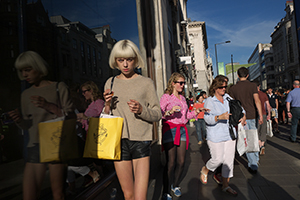 Speaking of curating and collecting, tell us about the assortment of (mostly slides as I recall) other photographers' photographs you own. Where did you find them? What drew you to collect so many lost/found vintage, vernacular images (what especially attracts you to those you have also scanned and find most remarkable)?
The first slides I found in a second-hand shop in Brighton. They were Agfacolor - and they were of a middle-aged 1970s couple enjoying various eastern European holidays and sunning themselves in their back yard with their teenage daughters. When I started to scan them and put them on flickr they became quite popular. The man, who became known as 'seventies man', had an array of colourful shirts and a permanent wave hairdo and his long-suffering wife lurked largely in the background while he had his photo taken with a bevy of beauties... air hostesses, tour guides and waitresses. I went back and found more. One showed the name of the street at the bottom of their garden.
People on flickr got more excited then, trying to find the house on streetview, by looking for streets with the same name that matched the layout and orientation. But no luck! And maybe it's no longer there. Eventually, I found a slide with their names on... Archie and Pam. That was a bit of a breakthrough. After that I started to find slides all over the place. I'd never really looked out for them before. I have several hundred now, including some lovely old American kodachromes but I have a soft spot for Archie and Pam because that's where the collection started.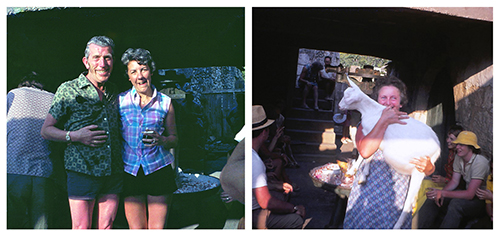 Archie and Pam from Chris Moxey's Found Photo Collection
How do your feelings for these 'amateur snapshots' differ from say the enjoyment and perhaps inspiration you would derive from acknowledged Masters of Photography like Tony Ray-Jones and William Eggleston? I guess I'm wondering if you view these quite varied photo collections in a different way, with differing expectations? Do you draw an aesthetic comparison between the two?
Yes, I do view them in a different way. The slide photographers obviously had different intentions in as much as they were not for a wide audience but purely for family and friends to enjoy. And as much as I enjoy them too, I feel a certain sadness as I look at them. I wonder how they came to be in junk shops and markets. Didn't their families want them? Archie and Pam, for example, had two daughters - so how come these family memories were abandoned? There's a poignancy about them but that's what I also find irresistible. And from an aesthetic point of view, there are some lovely photos amongst them, some great compositions... and some tender moments.
Please tell us about the London Independent Photography group and fLIP, their publication of which you are an editor, how and why you became involved and also some of the experiences you have had as part of this endeavour.
I joined London Independent Photography (LIP) about ten years ago having read about it in a local forum on Flickr. It's a community of about 500 photographers, funded by membership fees and run by a team of volunteers - and one of its main aims is to encourage people to develop a unique approach to their work. As well as workshops, talks and an annual exhibition - LIP publishes a magazine (fLIP) three times a year which showcases members' work, though not exclusively; our invitation to submit is open to all. I started doing a bit of copy editing about three years ago and now I'm assistant editor, which I really enjoy. Within the main LIP group, there are 'satellite' groups in different areas of London that have monthly get-togethers. I'm lucky that my local one meets in the pub at the end of the road! It's a generally supportive group where we share and discuss our work, occasionally go out and shoot together, and organize local exhibitions. It's fun and interesting and it's a good way to meet other photographers.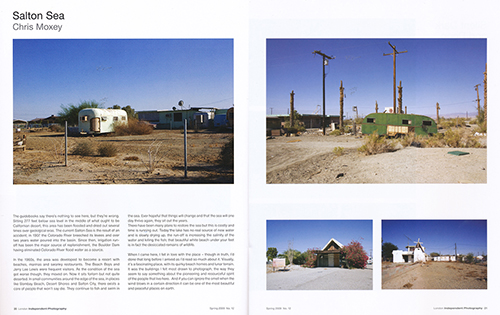 Could you tell us a little bit about your ongoing project that directly refers to the theme of English Eccentricity you've titled England's Dreaming?
Ah... well, we Brits don't have the monopoly on eccentricity of course but I see a lot of odd things as we drive around. I'm often drawn to things that on first glance can appear quite mundane, until you realise something is not quite usual about them. It could just be an odd-shaped hedge, a particular pairing of house and car, a castellated house sitting in the middle of an otherwise ordinary street. It seemed a fun idea to play around with - people attempting to make their unworldly surroundings more fabulous in some way - but it's not about having delusions of grandeur, I see it as more lighthearted than that. I'm certainly not having a cynical pop at anyone. A really good day was coming across a huge Statue of Liberty sitting in someone's back garden in the middle of the English countryside. The title of the series I stole from Jon Savage who wrote a book about the British punk movement and I just happened to like it.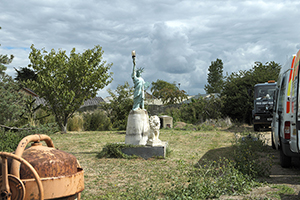 I know you've been a bereavement/grief counsellor. Are you still? What brought you into such an expertise to assist people struggling with such a difficult stage of life?
Yes, I still do the bereavement counselling, just one day a week. People say to me that it must be depressing but I actually love it, which I guess sounds a bit odd. I hear such sad stories from people who are really struggling - who share as little or as much as they are able, and I feel humbled. They are amazing and I learn a lot from them.
Honestly, I think that many of your photos, especially of the elderly, show an obvious compassion and respect often missed in the modern era of street photography where getting the photo is akin to 'capturing prey' and the more ludicrous the subjects are made to look, the better the photographer (and fans) think the photos are.
I don't like the idea that we're 'capturing prey'. When people say 'nice capture' what does that even mean. I don't want to capture anyone. I'm not a huge fan of the Bruce Gilden style of photography, though I do like After the Off, his Irish racetrack book made in conjunction with Irish writer Dermot Healy. But generally, I don't like to see people made the subject of ridicule.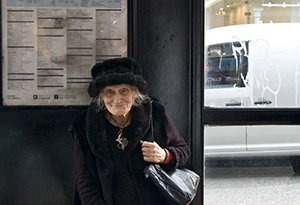 This seems a good place to close and say: As ever, Thanks, Mox!
Thank you, Didi. It's been my pleasure.